Paint
Bradley's now offers the full line of quality Benjamin Moore paint products. We are delighted to carry Benjamin Moore for their highest-quality paints and finishes in the industry.
We offer a complete line of Benjamin Moore® products for virtually every project you have. From surface preparation products, to a wide array of coatings in sheens and formulas for every requirement. Whatever the job demands, we have what you need.
Benjamin Moore Products
GarageGuard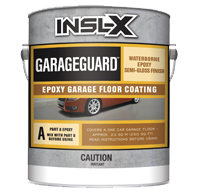 GarageGuard is a water-based, catalyzed epoxy that delivers superior chemical, abrasion, and impact resistance in a durable, semi-gloss coating. Can be used on garage floors, basement floors, and other concrete surfaces. GarageGuard is cross-linked for outstanding hardness and chemical resistance.
Stix® Waterborne Bonding Primeret Coat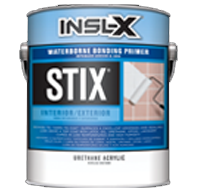 Stix Waterborne Bonding Primer is a premium-quality, acrylic-urethane primer-sealer with unparalleled adhesion to the most challenging surfaces, including glossy tile, PVC, vinyl, plastic, glass, glazed block, glossy paint, pre-coated siding, fiberglass, and galvanized metals.
Cabinet Coat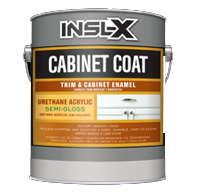 Cabinet Coat is the ultimate finish for refurbishing kitchen and bathroom cabinets, shelving, furniture, trim, and crown molding. Delivers an ultra-smooth, factory-like finish with long-lasting beauty. Adheres to "hard-to-stick" surfaces, including polyurethane and varnish, without a primer.
Renaissance chalk furniture paint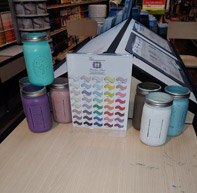 Put a fresh coat of wood on it! Just paint it then stain it. Restore and upcycle! DIY or professional! No sanding or stripping. - Renaissance Furniture Paint is an eco-friendly chalk paint with excellent coverage.
Retique it liquid wood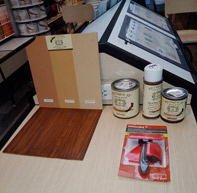 Retique It allows you to apply a layer of unfinished wood on virtually any surface.
No sanding or priming required. You can do shabby chic, distressed, antique, contemporary & more.
Aura Interior Paint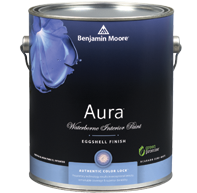 Aura® paint covers like no other – even the deepest shades never require more than a second coat. Its fast-drying formula lets you recoat in as quickly as an hour and touch-ups are seamless. Aura paint's proprietary Color Lock® Technology locks in color for incredible color depth and durability that won't fade over time and wear. Low VOCs and low odor keep the environment healthier, too.
Aura paint is available in the entire Benjamin Moore® color palette of over 3,600 hues along with their popular Affinity Colors® – 144 harmonious colors that complement every style.
Aura Exterior Paint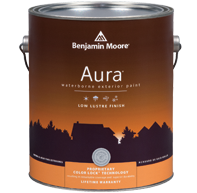 Benjamin Moore Aura offers the most advanced way to bring color to your world with the next generation of paint that simplifies your life. Our patented breakthrough paint technology, called Color Lock, is the only one of its kind in the industry, bringing you a discernibly richer, truer color, paired with incomparable performance.
A super premium quality, 100% acrylic exterior flat latex finish. This product combines the advantages of our latest resin technology and our proprietary Gennex® colorant system to provide the ultimate exterior coating. This high solids formula is suitable for a variety of exterior surfaces and can be applied as low as 40°F. Aura® Waterborne Exterior Flat Finish is suitable for wind driven rain when applied according to recommendations.
Recommended for exterior use on wood, fiber, cement, board, hard board, vinyl and aluminum siding, shakes, unglazed brick, concrete, stucco, cinder block, and primed metal.
Natura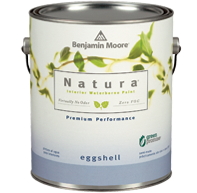 Recycling, buying organic, using energy efficient products – these are just a few of the choices you make every day to help the environment. With Natura paint, you have an environmentally friendly option when it comes to painting the interior of your home, and you can count on the beauty and quality you expect from Benjamin Moore.
Unlike most environmentally friendly paints, there are no compromises with Natura. It covers easily and beautifully, and because there are zero VOCs in both the paint and the colorants, you can choose from more than 3000 gorgeous colors. Natura is virtually odorless.
Regal Paint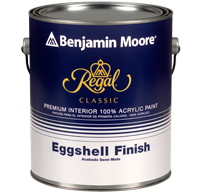 The timelessness of Regal® paint is its perfect balance of functionality and aesthetics. Regal paint stands up to today's active lifestyles in colors and finishes that create the home you've always imagined – a promise that has been met generation after generation. Regal paint's washable, mildew-resistant, and stain-release formula ensures the look you love is the look you keep.
Ben Paint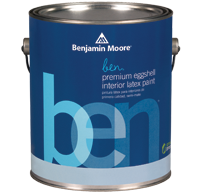 Interior paint that's style and budget-conscious, ben® is a superior quality coating that applies and cleans-up easily, and dries to a strong, durable finish. Indulge your sense of style without sacrificing great design or your budget. Available in over 3,000 colors in flat, eggshell and semi-gloss sheens.
Studio Finishes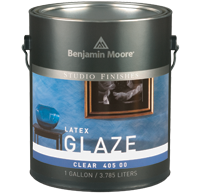 Take color to another dimension with Benjamin Moore® Studio Finishes® – a collection of stunning Clear and Metallic Glazes, and luminous Pearlescent hues that capture and reflect the beauty of light and color in ways that transform everyday surfaces into stunning design elements.
Interior & Exterior Stains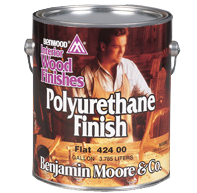 Benjamin Moore offers a complete finishing system for both your home's interior and exterior wood. From functional surface preparation products to a comprehensive collection of stains in varying opacities and captivating colors, Benjamin Moore has the perfect product to protect and enhance the beautiful wood elements of your home.
Fresh Start Primer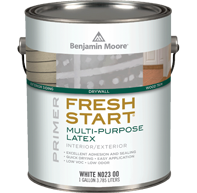 When only the very best will do, choose premium quality Benjamin Moore Fresh Start primers. Their unsurpassed performance ensures a successful project with superior results. Fresh Start primers are specially formulated for any type of substrate preparation and provide a complete system that is designed to maximize the performance and longevity of the Benjamin Moore topcoat.
Super Spec HP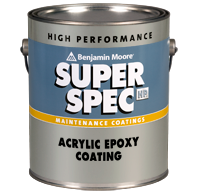 The Benjamin Moore Super Spec HP line features a complete selection of high performance coatings for any residential or commercial maintenance project. These products are easy to apply when following simple label instructions and most do not require any special skills or equipment. The Super Spec HP line offers the same premium quality maintenance products that are synonymous with the Benjamin Moore name.
MoorGard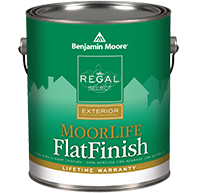 A premium quality, 100% acrylic exterior latex house paint. Our latest technological improvement, using 100% acrylic resin and proprietary alkyd technology, provides a protective exterior coating that will remain looking freshly painted years after the job is finished.